Januar - Dezember

Heidrun Wendlandt Schäferkamp 6 19306 Neustadt-Glewe

mobil: 0163 1318012 _038757 23248 _038757 23265 pension-am-see@web.de
...
how to find us: -->
check out our location
At the periphery of Neustadt-Glewe (well marked from all directions) .
Easy to find, 3 km away from the motor-way >Neustadt-Glewe< A24 (Hamburg-Berlin).
Close by the Lewitz (a nature reserve) and next to the Elde-Müritz-Wasserstrasse.
A beautiful lake is approximately 300 Meter away.

Worthwile to visit are also nice towns in the vicinity:
Schwerin, Ludwigslust, Parchim and Grabow.
Hotel overview:
One-family house with a big extension
2 single rooms, 4 twin rooms and 1 double room
Each of the rooms has a seperate entrance, shower and toilet inside, district heating, phone and tv
Sunny room for breakfast, cooking facilities, terrace and table tennis are available
Lawn for sunbathing next to a mobile home "Löwenzahn"; additional camping is possible(1-2 tents).
.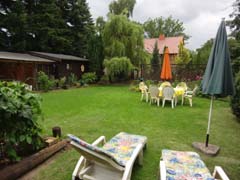 .
.
[top]
Pension
big lawn for sunbathing
Barbeque

table-tennis, bike-rental-outlet
fishing nearby is possible
[top]
bungalow
( 100 m to the ake)
2 rooms, Flur, kitchen, bathroom and toilet, Terrace -> 40qm
April - November on appointment
(maximum 3 people) - all rooms have a heating inside-
check availability

[top]
Mobile Home
Löwenzahn

Living room (tv, radio) with a little kitchen and fridge inside. Bedroom (2 beds and a lot of space for luggage).
Toilet with basin + shower outside (warm).
April - October (2 people + child in mobile home + 1-2 tents are possible)
Addition : (only if you stay a single night) : 3 € each person (except childs)

[nach oben]
Pricelist:

without breakfast

with breakfast
1 person in single room
41 €
48 €

1 person in twin room

41 €
48 €

2 persons twin room

48 €
62 €

3 persons twin room

58 €
79 €

Bungalow 06. Okt. - 30. Apr. : 01. Mai - 05. Okt. : final cleaning: 20 €,
used electricity 0,40 €/kWh
---> 30 € /day or 180 € / week ---> 40 € /day or 260 € / week max. 2 Personen

mobile Home Löwenzahn

1 adult or 2 childs : 25 € 2 adults : 35 € Camping 12 € / Person
--> If you'll stay longer for more than 5 days we allow a discount (without Jun.- Aug.) (check out the pricelist)
--> an additional bed in 2 rooms is possible and costs 10 €. Breakfast: 7 €, for childs (4-12): 4 € --> 5 € more pro Person and day to Burgfest, Airbeat One, Kl. Fest im Park --> 5 € more pro Person and day to Bulli-Treffen, Mercedes-Oldtimer Treffen